As the amount of glucose reaching the cells of the small intestine increases, the amount used for metabolic purposes also increases (11). It has also been shown that as energy intake increases glucose requirements increase as well. Increases in the proportion of glucose metabolized to carbon dioxide may explain why little net absorption or net visceral output of glucose occurs in ruminants (10). Indeed Okine et al. (11) and Nocek and Tamminga (9) hypothesized that as glucose availability increases at the small intestine there may be a greater oxidative drain to support gut metabolism, secretory processes, protein turnover, and cell transport. Thus, as exogenous luminal glucose supply to the small intestine increases, endogenously produced glucose by the liver may be spared from being used for gut metabolism, thereby allowing more glucose to be directed to the mammary gland during lactation (11). Table 1 illustrates how starch digestion, absorption, and metabolism in the small intestine relate to glucose requirements and synthesis of milk by a dairy cow.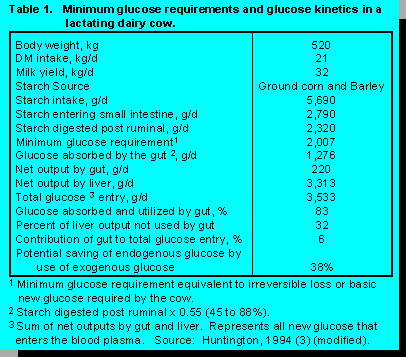 The point to be made from the table is that gut metabolism of glucose from the luminal side saves about 32% of endogenously produced glucose by the liver thus allowing more glucose to be directed to the mammary gland for milk synthesis.
Nutritional Regulation of Anabolic Hormones
Nutrient Regulation of Insulin Gene Expression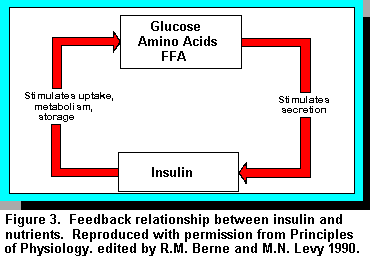 The major pancreatic islet hormones, insulin and glucagon, are rapid and powerful regulators of metabolism. They regulate and coordinate the disposition of nutrient input from meals and endogenous substances by actions on the liver, adipose tissue, and muscle mass. Insulin is a peptide hormone secreted by the -cells of the pancreatic islets. In the broadest sense, insulin secretion is governed by a feedback relationship with the exogenous nutrient supply. When nutrient supply is high or abundant, insulin is secreted in response and the hormone in turn stimulates the utilization of these nutrients while inhibiting the mobilization of endogenous substrates. When nutrient supply is low, insulin secretion is dampened and there is an enhanced mobilization of endogenous substrates. Short-term control of insulin production is regulated through translation of preexisting mRNA. Over the longer term, insulin mRNA levels are regulated through effects on the rate of transcription of the insulin gene, and mRNA stability (2). Insulin mRNA level is modulated by glucose through effects both on transcription of the insulin gene and on the rate of turnover of insulin mRNA. Other nutrient substances that influence insulin gene levels are mannose, amino acids, fatty acids/keto acids (Figure 3).
Although short-term (20 minutes to a few hours) nutrient regulation of insulin secretion occurs at the level of translation of existing mRNA, long term regulation is mediated through changes in insulin mRNA. In this way, the -cells can rapidly replenish insulin stores, and enable them to respond to changes in the blood glucose level throughout the day while also having the capacity to adapt to more long-term dietary changes. The overall thrust of insulin is to facilitate storage of nutrients and inhibit their release. For carbohydrates, insulin stimulates the transport of glucose from the plasma, across the cell membrane, and into the cytoplasm in muscle and fat (adipose) tissue. For fats, insulin stimulates transfer of fatty acids into the adipose cells for fat synthesis. For protein, insulin stimulates the transport of certain amino acids from the plasma across the cell membrane for protein synthesis. These effects are summarised in Figure 4.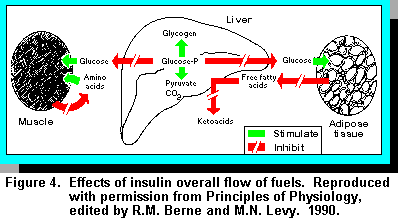 The overall synthesis of proteins from amino acids is also increased by stimulation of transcription and translation. These anabolic (buildup) effects of insulin are reinforced by the anticatabolic (anti-breakdown) effects, that is the inhibition of the enzymes of proteolysis and inhibition of the release of amino acids from the cell. In addition, insulin and the structurally related peptides called somatomedins enhance the general synthesis of proteins, DNA, RNA, and other macromolecules. Thus, insulin is an important contributor to growth, tissue regeneration, and increased productivity of the dairy cow.
Nutrient Regulation of Bovine Growth Hormone Gene Expression
Bovine growth hormone (bGH) is produced by the anterior pituitary gland and belongs to a family of somatolactogenic hormones including prolactin and placental lactogen. It has been known for a long time that exogenous bGH administration is galactopoietic, increases lipolysis, protein accretion, bone growth, gluconeogenesis, and improves the biological efficiency of milk production when injected into dairy cows (1). The current theory of the mechanism of action of bGH is that it exerts a chronic homeorhetic regulation of metabolism by repartitioning nutrients in favor of milk production. The natural secretion of endogenous GH is controlled by several factors including growth hormone releasing factor (GRF) which is stimulatory and somatostatin (SS) which is inhibitory. Like all peptide hormones, the first step in the action of GH is the binding of GH to receptors in target tissues. Although GH receptors have been found in various tissues, not much is known about the bGH receptor. However, it is known that two types exist, one receptor of high affinity and the other of low affinity. Although a direct effect on bGH on target tissues such as the mammary gland cannot be ruled out it is generally believed that the effects of bGH require the generation of a distinct class of second messengers called insulin-like growth factors (IGF) which modulate its intracellular actions.
The effects of plane of nutrition and specific nutrients on endogenous and exogenous bGH are both complex and interesting. Endogenous bGH is regulated metabolically by the energy substrates glucose and free fatty acids. A sharp drop in either glucose or free fatty acid levels stimulate a two- to ten-fold increase in plasma bGH, whereas elevation of glucose or free fatty acid levels reduces bGH levels by 60%. Protein ingestion, on the other hand, stimulates bGH synthesis.Detection of high-affinity GH receptors of insulin-like growth factor ( IGF-1) in response to rbGH injection in the dairy cow depends on the plane of nutrition. Dairy cows on a high plane of nutrition that respond to rbGH with increased IGF-1 concentrations also possess high affinity GH receptors in the liver and adipose tissues (1). However, cows fed diets deficient in energy and/or protein have little response in IGF-1 concentrations or high affinity GH receptors. It is now known that a low plane of energy and/or inadequate protein diet can uncouple the relationship between bGH and IGF-1, thereby causing cows to have no milk production response when injected with rbGH. Thus, although voluntary feed intake does not increase until several weeks after the initiation of rbGH injections and increased milk production, the maintenance of increased milk production is dependent on a high plane of nutrition for the cows.
The mechanisms of action of rbGH are to argument the availability of milk precursors in the blood, an increased synthetic ability of the mammary gland, a slowing down of the involution of the mammary gland and chronic lipolytic and nutrient partitioning to ensure increased milk production by the mammary gland. These mechanisms are possible and increased milk production probable only if the dairy cow is maintained on a high plane of nutrition.
References
1. Burton, J.L, B.W. McBride, E. Block, D.R. Glimm and J.J. Kennelly. 1994. A review of bovine growth hormone. Can J. Anim. Sci. 74:167.
2. Docherty, K. and A.R. Clark. 1994. Nutrient regulation of insulin gene expression. FASEB J. 8:20.
3. Huntington, G.B. 1994. Ruminant starch utilization progress has been extensive. Page 16 in Feedstuffs (June 6).
4. Iwai, K., T. Fushiki and S.-I. Fukuoka. 1988. Pancreatic enzyme secretion mediated by a novel peptide: monitor peptide hypothesis. Pancreas 3:720.
5. Kanayama, S. and R.A. Liddle. 1991. Influence of food deprivation on intestinal Cholecystokinin and somatostatin. Gastroenterology 100:909.
6. Kreikemeier, K.K ., D.L. Harmon, R.T. Brant Jr., T.B. Avery and D.E. Johnson. 1991. Small intestinal starch digestion in steers: Effects of various levels of abomasal glucose, corn starch and corn dextrin infusion on small intestinal disappearance and net glucose absorption. J. Anim. Sci. 69:328.
7. Lichtenberger, L.M. 1982. Importance of food in the regulation of gastrin release and formation. Am. J. Physiol.. 243:G429.
8. Lund, P.K. 1993 Nutritional control of gastrointestinal hormone gene expression. In: Nutrition and Gene Expression, edited by C. Berdanier and J. Hargrove. 1993. CRC Press. USA. pp 91.
9. Nocek, J.E. and S. Tamminga. 1991. Site of digestion of starch in the gastrointestinal tract of dairy cows and its effect on milk yield and composition. J. Dairy Sci. 74:3598.
10. Okine, E.K and J.J. Kennelly. 1994. From Fiber to starch: the evolution of the cow. In: Advances in Dairy Technology. 1994. J. J. Kennelly (ed). Volume 6: 187.
11. Okine, E.K., D.R. Glimm, J.R. Thompson and J.J. Kennelly. 1995. Influence of stage of lactation on glucose and glutamine metabolism in isolated enterocytes from dairy cattle. Metabolism. 44:325.
12. Perry, K.W., T.E.C. Weekes, J.A. Rooke, D.S. Parker and D.G. Armstrong. 1988. Effect of protein intake on gastrin secretion in ruminants. In: Physiology of Digestion in the Ruminant. R.W. Dougherty (ed.) Butterworths, Washington, DC pp. 97.
13. Reynolds, G.W. and D.A. Titchen. 1977. Inhibition of gastric acid and pepsin secretion in sheep on first eating. Proc. Int. Union. Physio. Sci. 13:186P.
14. Reynolds G.W. and L.M. Mcleay. 1980. Secretin and Cholecystokinin activities in extracts of sheep intestine. Vet. Sci. Commun. 4: 53..
15. Shirazi-Beechey, S.P., B.A. Hirayama, Y. Wang, D. Scott, M.W. Smith and E.M. Wright. 1991. Ontogenic development of lamb intestinal sodium-glucose cotransporter is regulated by diet. J. Physiol.. 437:699.
16. Shirazi-Beechey, S.P., I.S. Wood, J. Dyer, D. Scott and T.P. King. 1995. Intestinal sugar transport in ruminants. In: Ruminant Physiology: Digestion, Metabolism, Growth and Reproduction 1995. W.V. Engelhardt, S. Leonhard Marek, G. Breves, and D. Giesecke (eds). Ferdinand Enke Verlag Stuttgard. pp 117.
17. Suominen, A.H., D.R. Glimm and J.J. Kennelly. 1995. Cholecystokinin gene is expressed in bovine duodenal tissue. Ann. Zootech. 44:suppl. 283.
18. Titchen, D.A. 1986. Gastrointestinal peptide hormone distribution, release, and action in ruminants. In: L.P. Milligan, W.L. Grovum and A. Dobson (eds). Control of Digestion and Metabolism in Ruminants. Prentice-Hall, Englewood Cliff, N.J. pp 227.
19. Walsh, J.H. 1987. Gastrointestinal hormones In: Physiology of the Gastrointestinal Tract. L.R. Johnson (ed). Raven Press, New York. pp. 181.
20. Zabielski, R., P. Podgurniak, S.G. Pierzynowski and W. Barej. 1989. Stimulation of exocrine pancreas secretion by exogenous CCK-8 and secretin boluses during thermical vagal blockage. Asian-Aust. J. Anim. Sci. 2:117.