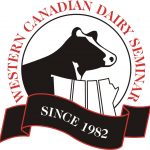 Western Canadian Dairy Seminar
March 5 - 8, 2024
Red Deer Resort & Casino, Red Deer, Alberta, Canada
Empowered for the Future
Tuesday, March 5, 2024
Once again, there will be no pre-conference tour as the Virtual Farm Tours will be returning as part of the Producer Panel on Thursday March 7.
Pre-conference workshops are hosted by various sponsors and will be promoted as they are confirmed.
6:30 pm - 9:00 pm Registration
7:00 pm - 10:00 pm Opening Reception
Please join us at our opening reception for cocktails, refreshments and live music.
Wednesday, March 6, 2024
Morning Plenary Session
8:30     Welcome  – Miriam Sweetnam, Dairy Farmers of Manitoba, Chair, WCDS Advisory Committee
Introductory Remarks and Conference Overview – Karin Orsel, University of Calgary, Chair, WCDS Program Committee
8:50    Keynote Speakers
The Future of Sustainability in the Dairy Industry: A Fireside Chat with Dianne Finstad and Sara Place, Colorado State University
9:45     Nutrition Break
Session I: Resilience Through Sustainability
10:30  Supplying Canadian Demand: Economic Sustainability and Supply Management - Matthew Gaudreau, Canadian Dairy Commission
11:05  Sustainable Canadian Dairy: Why it is Important and How it is Being Achieved - Connie McLellan, Ducks Unlimited Canada
11:40   Sustainability and On-Farm Realities: Our Journey Annie AcMoody, Dairy Farmers of Canada
12:15   Lunch
Afternoon Plenary Session
Session II: Nutrition
2:00 Back to the Future: New Ideas for Today's Dairy Herd Challenges - Daniel Scothorn, Scothorn Nutrition
2:35 Feed Preference & DMI: Is there a Real-World Link that NASEM Predictive Models Miss? - Paul Kononoff, University of Nebraska
3:10 Nutrition Break
Session III: Transition Management
3:55 Transitioning to Success: The Intersection Between Peripartum Nutrition, Health & Reproduction - José Santos, University of Florida
4:30 Mining Dry Period Data for Insights into Improved Lactation Performance - Barry Bradford, Michigan State University
Evening Banquet
6:00 Cash Bar
7:00 Supper Entertainment – The Heebee-jeebees
The banquet is optional. Separate registration required.
Thursday, March 7, 2024
Morning Plenary Session
Session IV: Student Research
8:30     Student Research Presentation Competition
Five graduate students will present their dairy-related research findings
9:45     Nutrition Break
Session V: Producer Panel & Virtual Farm Tours
10:30   Producer Panel Presentations
Three dairy farms demonstrating sustainability and resilience on their operations will be virtually toured followed by a Q&A period
12:30   Lunch
Afternoon Plenary Session
Session VI: Animal Welfare
2:15    Revised Dairy Code of Practice: What Will it Really Mean for Us? - Clem Nash, Novus International
2:50    Mindful Pain Management: Addressing Both Visible and Unseen Pain in Dairy Cows - Kate Creutzinger, University of Wisconsin-River Falls
3:25     Nutrition Break
Session VII: Future Proofing: Designing 2050 Ready Facilities
4:10    Whole-Farm Visioneering Concepts for a Resilient Future Dairy Farm - Vern Osborne, University of Guelph
4:45    A Producer's Perspective on Best Practices in Robotic Barn Design - Anton Borst, Halarda Farms Ltd.
5:30     Cocktail Reception
Announcement of Winners for the Student Research Presentation and Poster Competitions
Friday, March 8, 2024
Morning Plenary Session
Session VIII: Disaster Management: Lessons Learned
8:30    Preparing for the Next Big Disease: Surveillance, Biosecurity and Other Key Steps in Emerging Disease Preparedness - Glen Duizer, Government of Manitoba
9:15    When Disaster Strikes - Living though the BC Floods - Lisa McCrae, Agwest Veterinary Group
9:50     All-Hazard Type Events: Producer Preparation and Response - Katherine Altman, Alberta Agriculture & Irrigation
10:25     Nutrition Break
Session IX: The New Age of Digital Agriculture
11:05    Practicing Strategic Social Media & Media Engagement in Agriculture: The Fight Against Disinformation - Kevin Folta, University of Florida
11:40    Dairy Farming 2.0: Milking the Potential of Artificial Intelligence – Diego Nobrega, University of Calgary
12:15   Closing