Over the years the dairy industry in Western Canada has benefited from the contributions of many individuals.
The John J Kennelly Western Canadian Dairy Seminar Award of Merit is inspired by the past contributions of Dr. John Kennelly to the seminar and is awarded by the advisory committee to an individual who has made a superior contribution in the areas of education, training, technology transfer or extension to the Western Canadian dairy industry. The award is made annually, if a suitable candidate is nominated, and presented to the recipient at the Seminar in the form of a plaque and a card explaining the history and rationale for the award.
To nominate an individual for the Award of Merit please fill out this form completely. Nominations must be received by January 15 to be eligible for consideration at the following Seminar.
Nominations can be emailed to wcds@ualberta.ca, faxed to (780) 492-5771 or brought to the registration desk at the annual WCDS conference for consideration the following year.
For more information contact Kira Hames by email at wcds@ualberta.ca, by phone at (780) 492-3236.
---
Kreg Hansen, Bar E Dairy – 2023 Award of Merit Recipient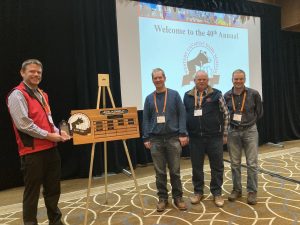 Kreg Hansen, along with Erling (father) and Glen (brother) Hansen of Bar E Dairy receiving the John J Kennelly Western Canadian Dairy Seminar Award of Merit at the 2023 WCDS, March 8, 2023 in Red Deer, AB. Pictured with Nelson Dinn, Chair of the 2023 WCDS Advisory Committee.
Bar E Dairy is a family run dairy farm located west of Innisfail, Alberta Canada. Established in 1978 by Erling and Wilma Hansen, the farm has grown from milking 50 cows to over 180 cows. Bar E Dairy also farms approximately 1000 acres of land to feed the dairy cattle and cash crop sales. All of Erling and Wilma's adult children: Glen, Kreg, Susanne and Maria continue to have a part in the farming operation. Farming is a way of life for the Hansen's, they work long days and have a true passion for working with animals. With ten grandchildren in the family, Erling and Wilma are confident that Bar E Dairy will continue their legacy.
Bar E Dairy has always valued partnerships with local Universities to help improve not only their own operation but the dairy industry as a whole. Which is why Kreg Hansen, representing Bar E Dairy, was nominated for this award by the dairy researchers at the University of Calgary, Faculty of Veterinary Medicine.
"In the absence of our own dairy farm, dairy research at UCVM is done off-site, mainly on private dairy farms in Alberta. Although many Alberta dairy farms have accommodated our faculty and students, the entire family and staff at Bar E Dairy have been simply exemplary; to our recollection, they have never denied any request! They have always welcomed us, been keenly interested in our research, and have worked very hard to accommodate and support our objectives and activities. Their critical questions and open discussions have been invaluable in refining and optimizing our field research and have substantially contributed to our success. When we suggested novel techniques, e.g., biopsy methods or treatments, Kreg was always open-minded and supportive. With his genuine curiosity and passion to optimize animal health and welfare, he has consistently been highly supportive and a critical collaborator." – Researchers at the UCVM.
For more than a decade, Kreg Hansen and the Bar E team have worked with researchers and students at UCVM to perform high level research and training, supporting the development of a large group of trainees. UCVM's engagement with Kreg and the Bar E have created opportunities for research and training that would have been difficult or simply impossible to do anywhere else. In addition to furthering research, Kreg has always been a phenomenal mentor to international students, or those with limited knowledge of the dairy industry.
---
Initial Recipient
Dr. John Kennelly

Initial recipient of the Award of Merit presented at Western Canadian Dairy Seminar March 2002
Congratulations to John Kennelly who was presented with the Award of Merit at the Western Canadian Dairy Seminar (March 5-8, 2002).
John is the initial recipient. In the future, this award will be presented annually at the Western Canadian Dairy Seminar to "an individual in the western Canadian dairy industry who has made a superior contribution in the areas of education, training, technology transfer or extension".
View more Award Recipients