The 2022 Western Canadian Dairy Seminar will be held
at the Cambridge Hotel, Red Deer, Alberta, Canada
on March 8 - 11 2022.

Register by January 21, 2022 to be entered to win a WCDS

touque

!
**Please note: in accordance with AHS and University of Alberta health regulations, the current COVID restrictions for the 2022 WCDS are as follows:
You must provide proof of full vaccination
Masks are required at all times unless eating
$295 Canadian (inclding GST) on or before January 21, 2022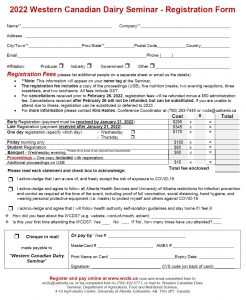 (must be completed online, faxed or post-marked no later than January 21, 2022)
$345 Canadian (including GST) after January 21, 2022
The registration fee includes a copy of the proceedings, three breakfasts, two lunches, five nutrition breaks, and two evening receptions. Part registration (i.e. one-day or two-day are available).
Or download a PDF of the registration form and fax or mail the form to us (the form will be posted on this page for download on Nov. 16, 2022):
Western Canadian Dairy Seminar
Dept. of Agricultural, Food and Nutritional Sciences
4-10 Agriculture/Forestry Centre
University of Alberta
Edmonton AB, T6G 2P5 Canada
Fax: 780 492-5771
Payment may be made by VISA, Mastercard, American Express or Cheque. Cheques must be payable to the "Western Canadian Dairy Seminar"
The Seminar registration fee does not include accommodation costs
WITHDRAWAL AND REFUND POLICY
For cancellations received prior to February 26, 2022, registration fee will be refunded minus a $50 administration fee. Cancellations received after February 26, 2022 will not be refunded, but substitutions are permitted.
Please do not attend the Seminar if you are experiencing any COVID-19 symptoms. Contact wcds@ualberta.ca for any cancellations due to sickness, which can either be substituted or deferred to 2023.
In the event the 2022 WCDS is not able to be held in-person due to COVID 19 restrictions, the seminar will be cancelled and any registrations fully refunded.
PROCEEDINGS
Paper copies of the Seminar proceedings are no longer being printed. Past Seminar proceedings can be downloaded and/or ordered here.
CONTINUING EDUCATION CREDITS
The Program for the 2022 Western Canadian Dairy Seminar will be applying for approval of Continuing Education Credits with the Saskatchewan Veterinary Medical Association and the Alberta Veterinary Medical Association.
For further information please contact:
Kira Hames, Conference Coordinator
Email: wcds@ualberta.ca
Phone: 780 492-3236
Fax: 780 492-5771