The 2021 Western Canadian Dairy Seminar will be held at the
Cambridge Red Deer Hotel & Conference Centre, Red Deer,
Alberta, Canada on March 9 - 12, 2021.

Registration for the 2021 dairy seminar will be available mid-November 2020

Online registration will close at 12 noon MST on Friday, March 5, 2021 for our March 9 - 12, 2021 seminar. After that, we will be accepting registrations onsite at the Cambridge Hotel, Red Deer starting at 6:30 pm on Tuesday, March 9, 2021.
Paper copies of the proceedings are no longer being printed. Proceedings are available on USB, via the WCDS Conference App and on the WCDS website following the Seminar.
$295 Canadian (including GST) on or before February 9, 2021
(must be completed online or post-marked no later than February 9, 2021)
$345 (including GST) after February 9, 2021
The registration fee includes a USB copy of the proceedings, three breakfasts, two luncheons, five nutrition breaks, and two evening receptions (including a drink ticket for the Thursday evening reception). Banquet tickets are sold separately. Part registrations (i.e. one-day or two-day) are available.
Register online or download a pdf of the 2021 WCDS Registration Form and mail to us:
Western Canadian Dairy Seminar
Dept. of Agricultural, Food and Nutritional Science
4-10 Agriculture/Forestry Centre
University of Alberta
Edmonton AB  T6G 2P5 Canada
Payment may be made by Visa, Mastercard, American Express or cheque
Cheques must be made payable to the "Western Canadian Dairy Seminar"
The seminar registration fee does not include accommodation costs.
Please note, the WCDS welcomes international attendees to the Seminar, however we do not provide letters of invitation.
WITHDRAWAL and REFUND POLICY
For cancellations received prior to February 23, 2021, registration fees will be refunded minus a $50 administration fee. Cancellations received after February 23 will not be refunded. Substitutions are permitted.
PROCEEDINGS
Copies of past Proceedings can be ordered, starting at $40.00 for a printed copy and $15.00 for a USB (includes GST).
CONTINUING EDUCATION CREDITS
The Program for the 2021 Western Canadian Dairy Seminar will be applying for Continuing Education Credits from the Alberta Veterinary Medical Association and 18 hours of Continuing Education Credits by the Saskatchewan Veterinary Medical Association.
For further information please contact:
Conference Coordinator
Email: wcds@ualberta.ca
Phone: 780-492-3236
Print and Mail
For mail-in registrations, please
print, fill out, and submit this form.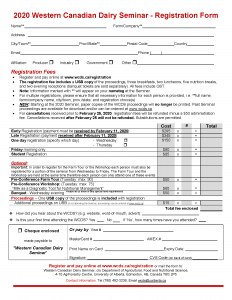 The 2021 registration form will be
available mid-November 2020
Not Attending the Presentations?

If you are not attending the Seminar presentations
but wish to purchase banquet and/or meal tickets
please contact the WCDS office (wcds@ualberta.ca;
780-492-3236) or visit the registration desk during
the Seminar.
If you are not attending the Seminar but wish
to purchase a USB copy of the 2021 proceedings
(or past proceedings), please visit the proceedings
order page. Orders will be mailed approximately
two weeks after the Seminar.